The third year – entering the deep end
So you've made it, you've tackled your first two years of discovery – and they weren't easy. You've learned a great deal about yourself, maybe who you want to be when you "grow up" and you've identified the friends with whom you want to share the rest of your college career. Finally, this whole college thing begins to make sense. But I have to tell you; you can't stop there … now its time to swim into the deep end. Its time to truly experience life.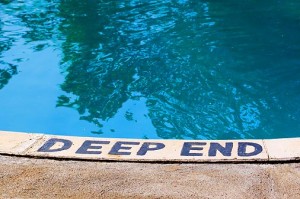 I recommend if you have the ability to take this literally – study abroad. Step outside of your comfort zone yet again (the floor beneath your feet) and let yourself experience another culture. Travel as much as possible and see the world. Life becomes so much more interesting when you are able to view it through another lens. Let me tell you something else, nothing makes you more humble, and proud of where you are from than when you are able to make real connections with people abroad.
If you can't travel abroad, don't worry. Take the time to try an internship in an industry that interests you, but that you aren't completely sold on being your future. It will be difficult; to convince yourself to take that leap, but now is the time to do it. Think about it this way, if you never try, you'll always wonder. However, if you try and hate it, you can always find your path.
Going into the deep end is scary at first, but don't you remember when you were about 12 years old? Swimming in the deep end for the first time when your friends couldn't? Remember that feeling? That's right, you felt like a bad a**. Let me tell you, while it may not be as literal, the more bold (or deeper) you can go, the better off you will be. People around you will begin to respect you for the risks you take, and you'll learn so much more.
While you're exploring, don't forget about what it took to get you to this point. In this year you still have to stay up on your classes, loyal to your friends, and helpful to those who ask. It is this year that you truly begin to develop your identity, which you will hope to leverage (successfully) in your final year.
Thanks for reading … Stay tunned for my favorite – the final part tomorrow!
_____________________________
My 3rd year of school was packed with excitement; I had just come off a trip to Africa, and was excited to spend 6 months in Europe. I met some amazing people abroad, and wish them all the best in their future endeavors. As a marketing student, I began to develop a "brand" for myself (hence the website). I also took an internship in an industry I wasn't sure that I wanted to be apart of.